Welcome to Training
In learning you will teach, and in teaching you will learn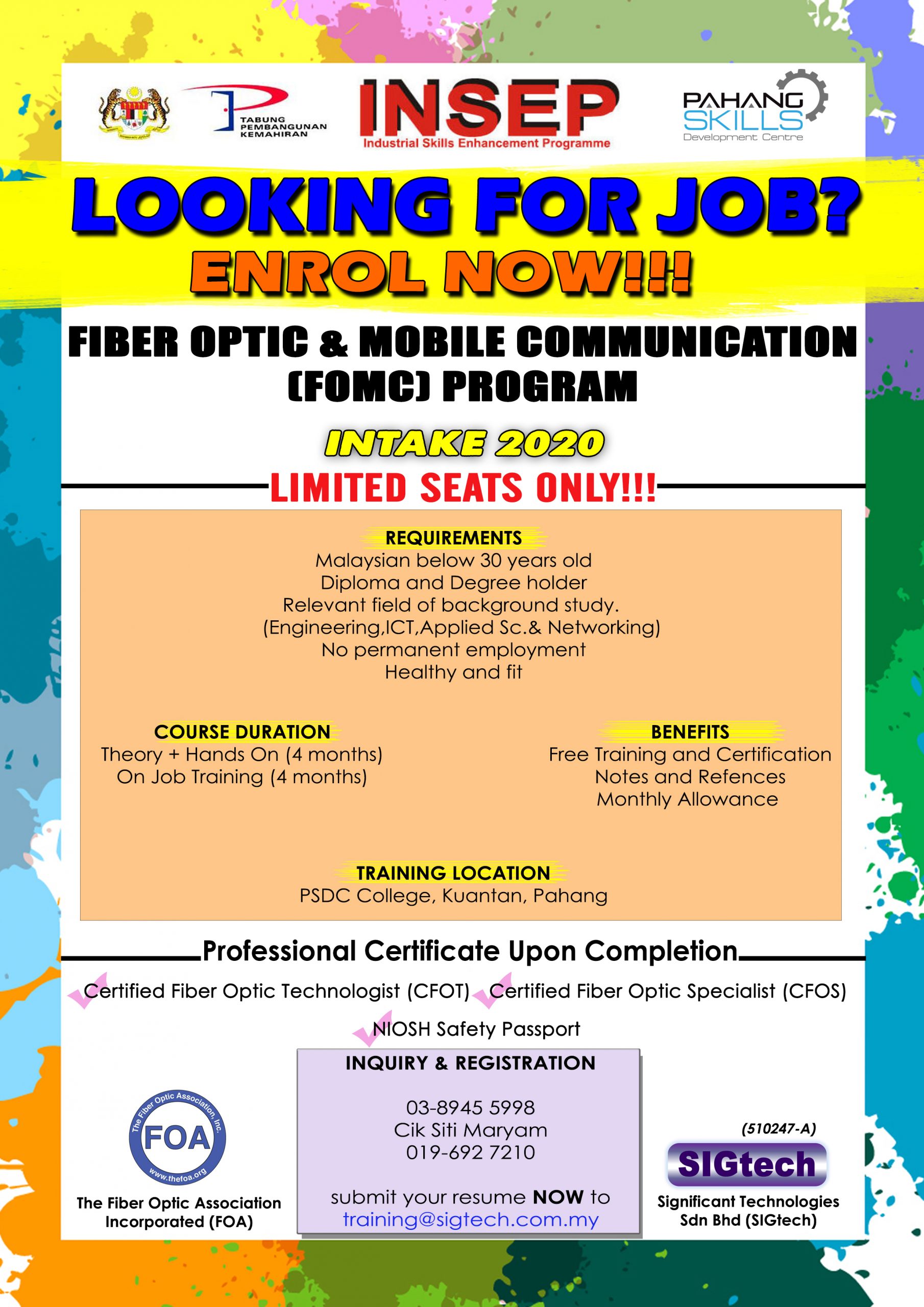 New Intake:
13th August 2020
Training Location:
Pahang Skills, Pahang
JOIN NOW!!!
WHY US
With so many training companies to choose from, all vying for your business, here are just a few compelling reasons why SIGtech Training should become your training provider of choice.
Tremendous Experience
More than 16 years experience in providing training with more than 3000 participants already trained
High Employlibility Rate
More than 90% employlibility rate for GRS and Long Course program
Comprehensive Module
Comprehensive module developed by experts in their field with 70% covered on Practical/Hands-On Session
FOA Approved School
The only Fiber Optic Association (FOA) Approved School in Malaysia
Specialist Trainer
Our local trainer and instructor are well trained and have multiple experiences in industry and experts within their own fields
HRDF Training Provider
Short Courses conducted can be claim under SBL-Khas
Bigger Company Database
A huge database corporate network and more than 300 companies for On Job Training and Employment
International Experience
Successfully conducted Industrial Enhancement Training for 200 Undergraduate Students from Sudan and Professional Training with participation from Iraq, Iran, Singapore, Indonesia, Brunei, Maldives, Somalia, Kuwait, Libya etc.
NOSS Development
Actively invited and involved in NOSS Development for JPK and several Education Institutions
Thank you for contacting us. For urgent enquiries please call us on one of the telephone numbers below.
Address
No.12A, Ground Floor,
Jalan Dagang SB4/1,
Taman Sungai Besi Indah,
43300 Seri Kembangan,
Selangor, Malaysia.